As if FB advertising and FB boosted posts weren't already fantastic enough…FB has introduced another NEW option for FB admins to use when targeting an audience for a boosted post.
Traditionally, when boosting a post (putting a little money behind it), we've become familiar with choosing an audience that includes either our "fans, and friends of fans", or a category that I find most effective, "people you choose through targeting" which allows you to choose an audience based on demographics to include gender, age, interests etc….
Well, just this week, I discovered that FB has introduced a third category, "people similar to people who like your page". Now, that is brilliant!
On a local or more "interest" level, a great option is to choose an audience of "fans and friends of fans" because more than likely, and generally speaking, you're reaching out to a lot of people in the same community or of the same mentality…."Birds of a feather do flock together", right?
At a broader level, to increase your reach, obtain new fans and potential customers based on interests, perhaps even in another city, or state, businesses have greatly benefited from targeting an audience that best meets the basic criteria for a potential fan or customer of their unique business.
Now, with this new category, "people similar to the people who like your page", FB will do the work for you based on the data that they collect from each and every FB user in the world! You don't have to try and determine what that category looks like, you're trusting FB that their data bank knows your customers as well as you do, if not better. Remember, every LIKE, COMMENT, or SHARE that is clicked on by a FB user, is collected and filed into FB's brain tank for advertising purposes and YOU, the business owner will benefit from that!
As with any new feature, I've had several FB admin friends state that they do not see this option yet, as FB tends to roll these things out. But I do…and I've just submitted my first Boost under the new category. I'll be sure to let you know the return on my investment on "people similar to the people who like MY page".
~Kathleen Ray/ Ur Agenda Social Marketing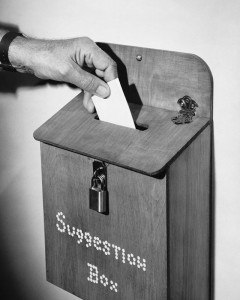 "Please drop your suggestion in the box"…Remember those days? Businesses of all types and sizes would have some sort of wooden, metal or cardboard box on either the counter or wall inviting customers to make a suggest or leave a comment regarding their business or service.
Now, imagine if that suggestion box was full, overflowing even with comments, suggestions and ideas regarding that business, yet, the business owner never opened the box!  Imagine how ridiculous that would be. Truth be told, it would be a complete missed opportunity for that business owner to engage with and consider the advice and opinions of the consumers….the exact consumers who are supporting the establishment.
This sad scenario is occurring everyday and in most cases, business owners are unaware that their suggestion boxes are overflowing.
Social Media forums like Facebook, Yelp, Foursquare, Manta, Google Places, Yahoo Local, Urban Spoon and so many more are compiled with consumer reviews, feedback, comments and suggestions that business owners simply aren't paying attention to. This new age of "social" technology and direct consumer access to businesses online establishes a phenomenal FREE link between business owners and their customers, but it also produces a "chain" of reaction if consumers are posing questions, concerns and reviews which are being ignored. Reputation Management, as it is commonly referred to today, is crucial for business owners and an essential task if businesses genuinely want to serve their customers.  It's an added duty no doubt, but that's looking at the glass half full. Instead, look at it this way; Never has the opportunity been so great for business owners to hear from consumers on a voluntary, regular basis through forums that  automatically drive information pertaining to your business right into your inbox, or "suggestion box".
Embrace…Engage…and get Excited about it! Your business reputation is counting on it.